05/01/2023
Walk Back during Finals!
DPS offers walking escort services 24/7/365 within the Penn Patrol zone. Call 215-898-WALK(9255) anytime to request an escort. We encourage you to use this free service provided for your safety and wellbeing. We also offer a convenient walking escort option for those who are using Van Pelt-Dietrich Library during reading days and finals, know as "Walk Back".
Walk Back Program
The Division of Public Safety will be offering the Public Safety Walk-Back Program during reading days and final exams.
An Allied Universal Public Safety Officer will be posted at the "Button" on Locust Walk from 10:00pm until 3:00am.
Approximately every half hour the officer will enter Van Pelt-Dietrich Library to offer walking escorts to anyone in the building. The officer will then perform the escort and return to repeat the process.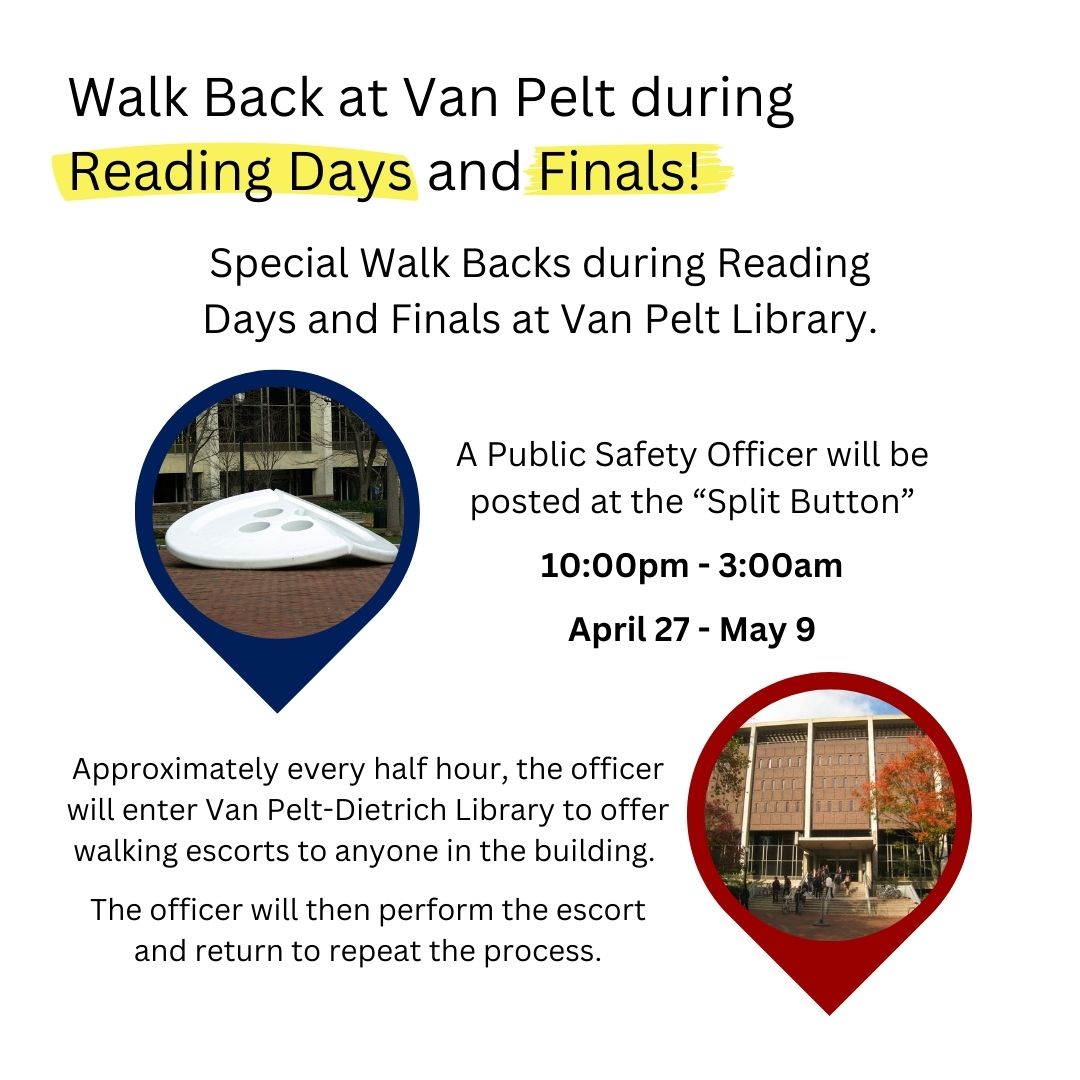 The Division of Public Safety is providing this service in addition to its normal Walking Escort Program, described below.
Walking Escort Services
Uniformed Allied Universal Public Safety Officers provide walking escorts to all campus locations. Officers are dispatched by radio and will accompany you from one campus location to another, to your parked vehicle, to a Penn Transit Stop or to an on-campus SEPTA regional transit stop.
Available 24 hours a day, 365 days a year, between 30th to 43rd Streets and Market Street to Baltimore Avenue.
Escorts also extends west to 50th Street, and north/south from Spring Garden to Woodland Avenue, between 10 a.m. and 12 a.m. via the University's partnership with the University District Ambassador Program.
How to Request a Walking Escort:
Ask any Public Safety Officer on patrol or inside a building
Call 215-898-WALK(9255) or 511 (from campus phone)
Use one of the many building and blue-light ephones located on and off Penn's Campus.
All of these public safety officers, though unarmed, with no powers of arrest or investigation, maintain direct radio communications with our PennComm emergency dispatching center, and supplement the University of Pennsylvania Police Department, through additional patrols and walking escorts.